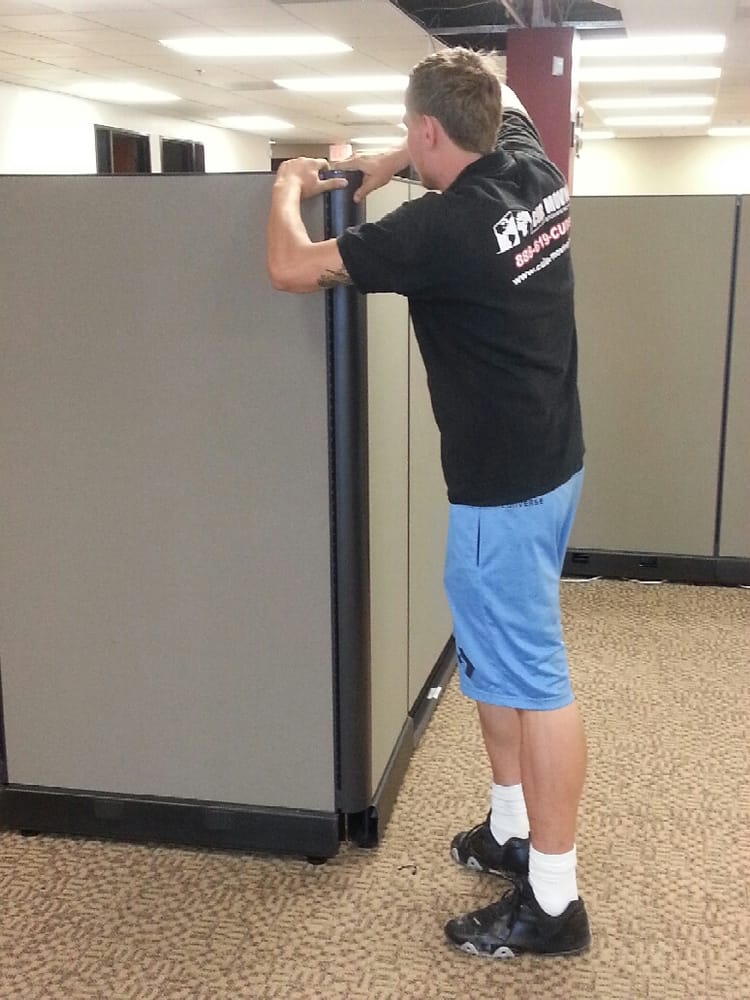 San Diego: The Perfect Place for Your Corporate Office – The Advantage of a Full-Service Commercial Moving Company
As a vibrant hub of business and innovation, San Diego is an attractive location for corporate relocations. But moving an office requires careful planning and execution – that's where Cube Moving, your leading commercial movers in San Diego, steps in.
Relocating a corporate office involves much more than moving furniture. It's about transferring sensitive documents, electronics, and sometimes specialized equipment. Cube Moving offers comprehensive services that cover all these areas, ensuring a seamless transition to your new San Diego location.
Our services go beyond mere transportation; we pack, move, and set up your new office, minimizing downtime and disruption to your operations. With our experienced team and state-of-the-art moving equipment, we're more than just movers; we're commercial moving experts.
In sum, if you're looking to move your corporate office to San Diego, Cube Moving offers the comprehensive, professional service you need to ensure a smooth transition. Trust us, your premier commercial movers in San Diego, to make your corporate move our top priority.
What is Commercial Moving in San Diego: Understanding the Importance of Hiring Cube Movers as the Number 1 Full Service Commercial Moving Company
Commercial moving refers to the process of relocating a business from one location to another. In San Diego, with its dynamic business landscape, this operation demands a high level of professionalism and efficiency. This is why businesses seeking a smooth transition opt for Cube Moving, the number one full-service commercial moving company in San Diego.
Cube Moving has carved out a strong reputation by providing comprehensive moving solutions that cater to every aspect of the moving process. From preliminary planning and packing to the actual move and setup in your new location, we handle everything with precision. Cube Moving is particularly mindful of minimizing business disruption, enabling you to maintain productivity even during the move.
Our team of experts comes with extensive experience and training, ensuring that even the most sensitive office equipment is transported safely and efficiently. As a full-service commercial moving company, we offer a one-stop solution for all your relocation needs in San Diego.
With Cube Moving, you can trust that your commercial move will be a seamless process, backed by a team dedicated to delivering exceptional customer satisfaction. It's this commitment to quality and service that makes us stand out as the premier choice for commercial moving in San Diego.
Four Important Reasons to Hire Cube Moving as Your Commercial Moving Company
Industry Knowledge: With Cube Moving, you're choosing a company that understands the unique needs of various industries. Whether you're in the tech sector, legal services, or healthcare, we've got the specialized knowledge to cater to your specific requirements. Our expertise spans different sectors, enabling us to provide tailor-made solutions that consider industry-specific regulations and best practices. This industry know-how ensures a smoother, more efficient move, minimizing potential risks and challenges.

Advanced Equipment: A commercial move is no small feat, requiring specialized tools and equipment to ensure everything goes smoothly. At Cube Moving, we invest in state-of-the-art equipment, including high-capacity moving vans, packing materials, and safety gear. This ensures your office equipment, furniture, and sensitive documents are handled with utmost care and safety. Our investment in advanced technology ultimately ensures a quicker, safer, and more efficient moving experience.

Safety and Insurance: Cube Moving places a strong emphasis on safety. All our moving processes adhere to industry safety standards, ensuring your assets and our team members are well-protected. Additionally, we are fully insured. This provides an extra layer of protection to our clients, giving you peace of mind that, in the unlikely event of any damage or loss, you're completely covered.

Competitive Pricing: At Cube Moving, we believe in providing top-tier moving services at competitive rates. We're transparent about our costs, providing detailed quotes that outline all charges. There are no hidden fees or surprise charges. This transparency combined with our competitive pricing ensures you get the best value for your money without compromising on quality or service.
The Benefits of Hiring Cube Moving and Storage as Your Full-Service Commercial Moving Company
1. Customizable Service Plans: One of the major benefits of choosing Cube Moving is the flexibility and customization we offer in our service plans.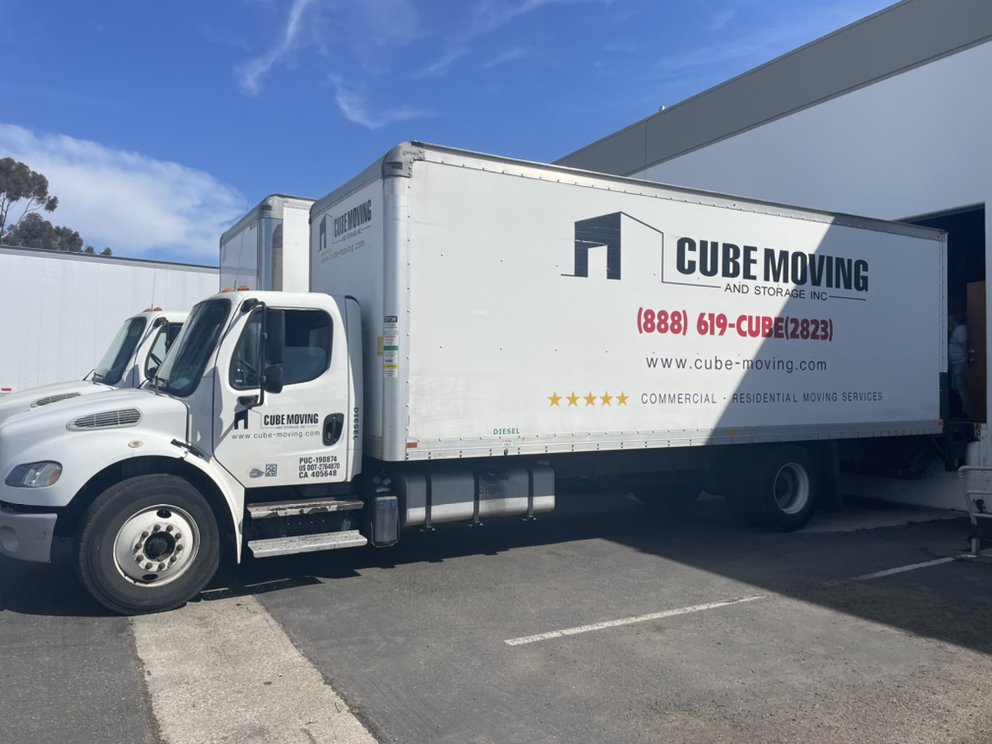 We understand that every business is unique, with specific needs and requirements. Our team takes the time to understand your specific moving needs, then creates a detailed plan that covers all aspects of your move. We consider your preferred timeline, budget, and special considerations to offer a moving solution tailored to your unique needs. This customer-centric approach ensures a smooth and hassle-free move, minimizing disruption to your business operations.
Experienced Commercial Moving Management

Commercial moving often involves several complex logistical challenges. Coordinating multiple aspects, from packing and loading to transportation and setup, requires expert project management skills. At Cube Moving, our experienced project managers coordinate all these elements seamlessly, keeping your move on track and within budget. They communicate with you regularly, keeping you updated on the progress of your move. This level of oversight eliminates potential mishaps, ensuring a well-executed and efficient relocation.
Reliable Customer Support: Exceptional customer service is a cornerstone of our business philosophy at Cube Moving.
From the moment you reach out for a quote until your last box is unpacked, our customer service team is there to guide and assist you. We promptly respond to your queries, keep you informed about the moving process, and swiftly address any concerns that may arise. This unwavering commitment to customer service ensures a positive and stress-free moving experience.
Security and Peace of Mind: Searching for "commercial movers San Diego" will yield many results, but Cube Moving stands out due to our commitment to security. 
We follow strict protocols during packing, loading, transporting, and unloading. Plus, our storage facilities are secure, providing a safe place for your assets if needed. With Cube Moving, you can have peace of mind knowing your valuable office items are in capable and responsible hands.
Hiring Cube Moving and Storage means enlisting a dedicated partner for your commercial move. Our benefits speak for themselves and demonstrate why we remain a top choice among commercial moving companies in San Diego.
Hire the Best Commercial Mover for Corporate Moves in San Diego – Cube Moving's Premium Equipment and Materials
When it comes to relocating a corporate office, Cube Moving stands out as the best commercial mover in San Diego. Our reputation is built on providing high-quality, efficient moving services tailored to each client's unique needs. A critical aspect of our service quality comes from our investment in professional moving equipment and superior packing materials, ensuring your office move is smooth and damage-free.
Our dedicated team takes the utmost care to protect your new office from any potential moving damage. We employ the use of floor runners to protect flooring from scuffs, scratches, and dirt during the move. These temporary protective covers are particularly beneficial when moving heavy items across polished hardwood or tiled floors.
In addition, our team uses dollies with soft rubber wheels for the secure and efficient transportation of your items. These dollies are designed to carry heavy loads easily, reducing manual labor and speeding up the moving process. More importantly, their soft rubber wheels are gentle on floor surfaces, preventing any damage during the move.
Furthermore, we use door protectors and sticky carpet shields to prevent damage to door frames and carpets, respectively. Door protectors provide a cushioned barrier against potential scrapes and bumps, while sticky carpet shields offer a removable protective layer, guarding against dirt, spills, and heavy foot traffic.
By carefully protecting your new office and providing comprehensive insurance, Cube Moving ensures your commercial relocation is as stress-free and secure as possible. Our dedication to quality service, combined with our use of professional moving equipment and materials, cements our position as the go-to commercial movers in San Diego. With Cube Moving, you can confidently focus on what you do best – running your business, while we take care of the rest.
FAQs About Cube Moving as the Number 1 Choice for Residential Moving in San Diego
Do you have storage available if our new office isn't ready yet?
igor89902
2023-09-06T13:05:53+00:00
Yes, we have climate-controlled warehouse facilities available for secure short-term or long-term storage of your office belongings until your new site is ready.
we are a professional
Best Moving Services offered by Cube Movers